MENTORS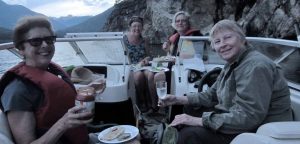 Mystery Camp writers on Holley Rubinsky's boat, July 2013,
L-R: JG Toews, Karen McConnell, Deryn Collier and Holley.
Photo by RM Greenaway
Writing guru Verna Relkoff critiqued draft after draft of an earlier novel, laying the groundwork for the stories I write today.
The late author Holley Rubinsky was also a master teacher. When she passed away in the summer of 2015, the writing community lost a star and I, along with many others, lost a friend and mentor.
Back in the summer of 2013 Holley teamed up with crime writer Deryn Collier to conduct a weeklong mystery camp for writers. There I met RM Greenaway, who was to win the Unhanged Arthur for Best Unpublished Crime Novel the following year. RM and I have since forged a writing relationship and friendship that mean the world to me.
Showing someone a work in progress is a little like standing naked in the light. But I'd be nowhere without feedback from these amazing women.